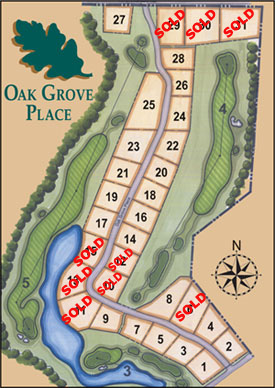 Oak Grove Golf Clun offers some of the most gorgeous lots in the Texarkana area. Oak Grove Golf Club works with local real estate developers to bring you some of the finest homes just outside Texarkana. All these properties border one of the finest golf courses in Texas.  These beautiful lots are available starting at only $59,995.00!

4.6 acres of commercial property next to the clubhouse, range, practice area, and number 1 tee box – only $299,500.00

8.9 acres of residential property next to number 5 fairway, heavily wooded – only $249,500.00

1800 sq ft home available across from practice area, next to number 9 green and club house – only $59,000

AWESOME FINANCING AVAILABLE ON ALL OF THESE PROPERTIES!
Contact us today for more information!
JIM BAUMANN
Office: (870)-774-5771
Cell: (720)-799-3181
E-Mail: J-Baumann@comcast.com